1st International Summer School STROMBOLI
Spectroscopic Techniques Recording Operations and Modeling
Based On Landscape Investigations
The 1st International Summer School titled STROMBOLI –"Spectroscopic Techniques Recording Operations and Modeling Based On Landscape Investigations" will take place at the Stromboli island form October 15th to October 18th.
The subjects dealt concern volcanology, experimental monitoring techniques, atmospheric, weather and environmental modeling, with a particular focus on volcanic ash trasport and deposition, spectroscopic techniques, and geophysics, geological and seismological peculiarities of the whole Mediterranean area. The School includes theoretical lectures, practical sessions (practicals) and guided excursions to the craters of Stromboli and Vulcano.
The theoretical lectures will be held by experts from international universities and research institutions. Practicals will be addressed to the experimental analysis of volcanic samples by means of spectroscopic techniques (e.g. IR and Raman, via portable and top-table spectrometers), devices for physical, geophysical and geochemical analyses (e.g. Radon emissions and volcanic particulate characterization), to volcanic ash monitoring, by means of drones, and to the meteorological and environmental forecasts, by means of modeling chains and satellite images analyses.
The school is addressed to researchers, graduate students and university students. Participants will have the opportunity to present a short oral or poster contribution whose contents, reported in an article prepared according to specific guidelines, can be published in a special issue of a Scopus indexed journal.
The 1st International Summer School Stromboli will be followed by the AEROMAT Conference, which will be held from 18th October to 21st October at the Istituto Nazionale di Geofisica e Vulcanologia – Nicolosi site. Talks, round tables, excursions on Etna volcano and an optional guided excursion in the Etna area are planned. In particular, a specific half day section is dedicated to talks of the partners involved in the AEROMAT project.
The Conference Aeromat focuses on the aviation-safety twin and has as main objective to discuss innovative technology solutions in the fields of environmental modeling applied to aviation, of materials and devices used in Unmanned Aerial Vehicles (UAV). In particular, among the issues affecting the aeronautics sector a special attention will be addressed to the impact that phenomena such as clouds of volcanic ashes, desert sand suspensions and extreme weather events have on airport infrastructures.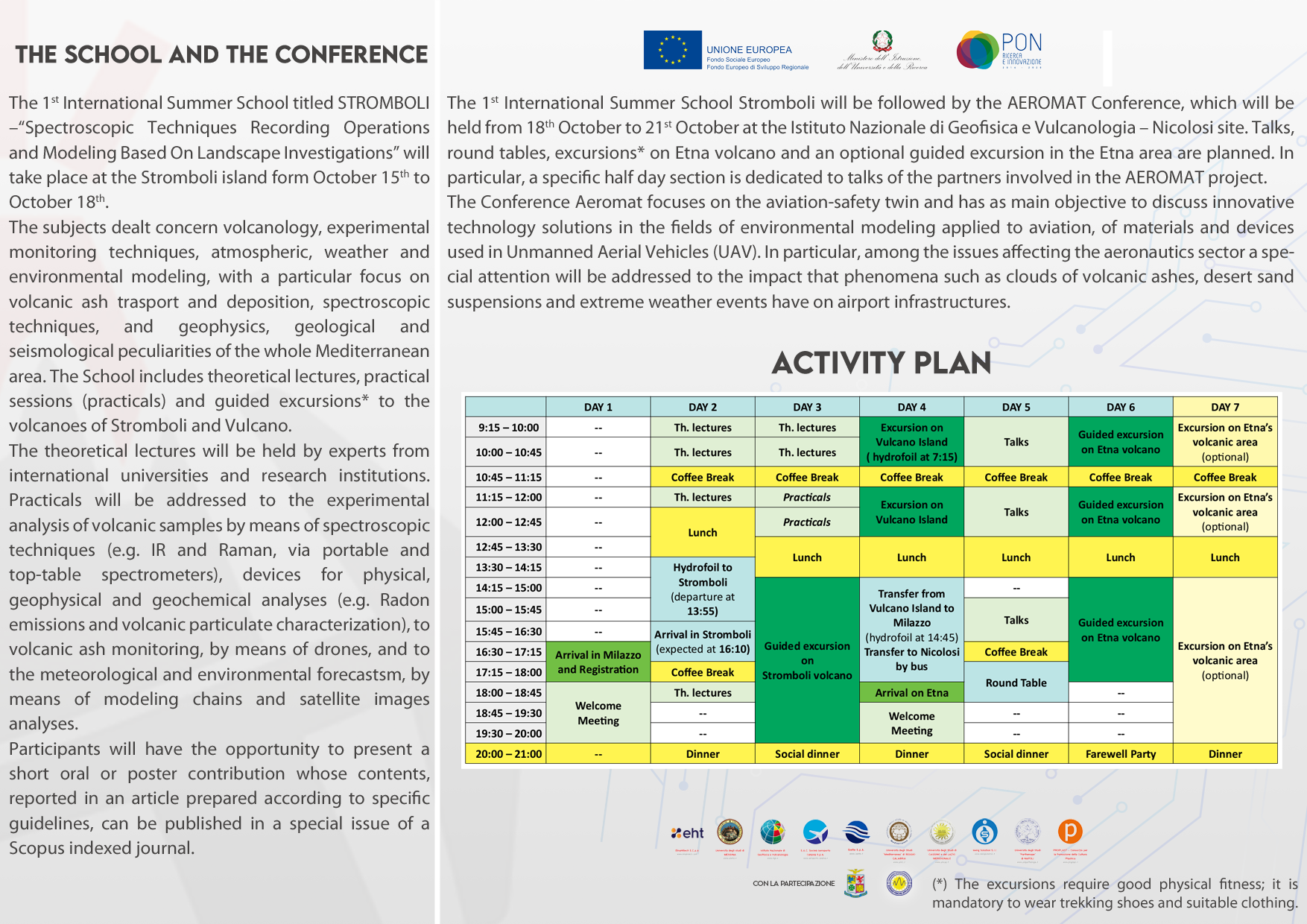 Application Form: https://aeromat.it/download/application_form_stromboli/
Costs (including inscription, meals, informative material):
STROMBOLI school 500,00 euro
AEROMAT conference 400,00 euro
Excursion Etna area 200,00 euro
Messina, Evento "MEDNIGHT"
27 agosto 2021
Il 27 Agosto attraccherà a Messina una barca a vela che ospita un team internazionale di ricercatori, e sta effettuando un giro del Mediterraneo per promuovere il progetto MEDNIGHT, un evento di divulgazione scientifica dedicato alla scienza del Mediterraneo, di cui l'Università di Messina è partner.
In occasione dell'attracco della barca, alcuni Ricercatori dell'Università di Messina promuoveranno un'attività di divulgazione scientifica preso la Passeggiata a Mare, mostrando alle persone del pubblico il risultato di semplici esperimenti scientifici.
Tra le varie attività, verranno illustrati il funzionamento del telescopio e dell'astrolabio, saranno mostrati alcuni semplici esperimenti sull'ottica, sul moto dei corpi, sui fluidi e sull'uso dell'energia solare. Inoltre, con esposizioni e supporti multimediali, verranno descritte le tecniche per studiare le caratteristiche biologiche degli organismi acquatici, le modellizzazioni meteo ambientali e le caratteristiche geo-territoriali dello Stretto di Messina.
L'evento, che si svolgerà nel pieno rispetto della prescrizioni per la prevenzione del contagio da covid-19, è aperto a tutta la cittadinanza, e si svolgerà alla Passeggiata a Mare il giorno 27 Agosto 2021 dalle 18:00 alle 21:00.
Link: https://www.unime.it/it/informa/notizie/scienza-vista-mare-il-27-agosto-evento-aperto-tutta-la-cittadinanza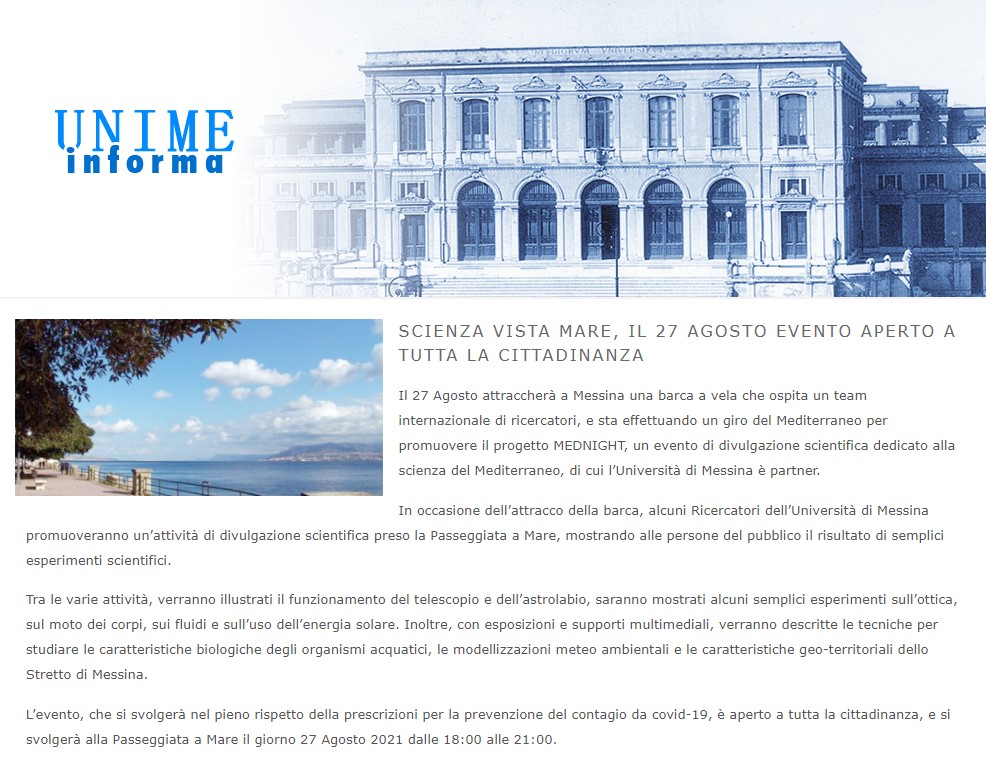 La notizia è stata riportata da diverse testate giornalistiche, tra cui la "Gazzetta del Sud":

Messina, Eventi Meteo Estremi E Protezione Civile
16 Ottobre 2020
In data 16 ottobre 2020 il Lions Club Messina Peloro,  ha organizzato il convegno "Eventi Meteo Estremi e Protezione Civile: dalla conoscenza dei rischi alla prevenzione". L'evento, tenutosi in occasione della "Settimana Nazionale della Protezione Civile" si è svolto con il patrocinio del Comune di Messina, con l'Assessorato alla Protezione Civile di Messina, con il Dipartimento Regionale di Protezione Civile e con l'Università degli Studi di Messina.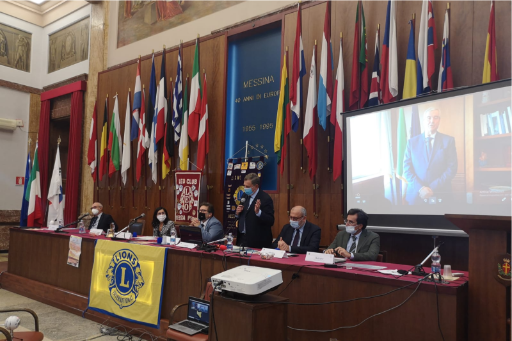 Evento del 3 dicembre 2019 – Riunione di Coordinamento Scientifico AEROMAT
In particular, this day has been focused on the detailed discussion of each partner. Each contact person discussed on the performed activities for the Progetto di Ricerca e Sviluppo "Impiego di tecnologie, materiali e modelli innovativi in ambito aeronautico (AEROMAT)" reporting achieved results. At the end of the day, a round table was held to continue discussing the activities and to coordinate future activities.